River Monster Collection Toy Fish Set Free Shipping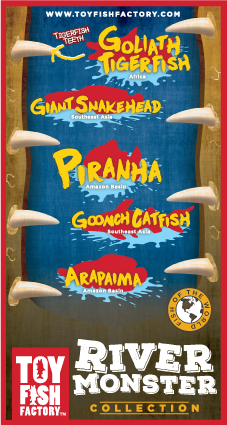 River Monster Collection Toy Fish Set Free Shipping
River Monster Collection Free Shipping
THE MOST AMAZING TOY FISH set available for kids and collectors. These are the fish from the TV programs like River Monsters and Monster Fish. Kids know and love these fish! These fish models have not been available until now, in 2018. Ask your youngster, do you want a toy Piranha? YES.
EXCITING NEW FISH SPECIES made into fish models. Toy PIRANHA plus 4 other amazing toy fish: GOONCH CATFISH, ARAPAIMA, GOLIATH TIGERFISH, GIANT SNAKEHEAD.
QUALITY FIGURES with a super nice COLLECTOR CASE. This is not the multiple fish in a bag set, the case is beautifully designed for small hands to carry and enjoy at all times. The hand painted fish models are the perfect bendable plastic that will not poke small hands. Well thought out design for kids.
GIFT FOR YOUNGSTERS 3 to 10 years old, especially a fisherman. Having this set is like having a free baby sitter for hours, day after day, your child will be so focused and content. The River Monster Collection as a gift is as good as it gets. It will be THE favorite birthday gift.
DURABLE for many years of play in water or out. These fish do not break and can handle abuse! Figurines are solid, will sink in water, and the paint will not come off. These mini toy fish measure 2.5 to 3" long. Case is 7.25" x 4" x 1" and you will love the utility and quality. There is no more satisfying toy fish set!
Product Description
The River Monster Collection is a collection of 5 exciting fish replicas that have never been made before. Goonch Catfish, Arapaima, Piranha, Goliath Tigerfish and the Giant Snakehead are included. Shows like River Monsters and Monster Fish on TV have made these fish famous and exciting for youngsters around the world. In fact, kids that have watched these shows find the River Monster Collection of toy fish simply awesome.
The high quality plastic case is an added and innovative feature that sets this set apart from many other animal sets. This five fish set with storage case is simply quality made, and designed with a purpose, not just another group of animals in a bag. The case also has a beautiful label with great graphics that kids love, and is perfect for small hands to carry around and enjoy at any time. The fish fit neatly into each slot in the case. Both case and fish will last many years of play. And, of course, you could not buy these species of fish made as a toy until we launched this product in January 2018.
Collectors of any age, but especially sons and grandsons ages 3 years to 11 years will enjoy these mini toy fish immensely. These are also toys that teach and perfect for school projects like dioramas. These fish are made of a firm but yet soft plastic that is bendable and not pokey, it will not hurt small delicate hands like some cheap animal sets. Fish are solid, not hollow, and will sink in water. Great for swim or bath tub toys as well.
River Monster Collection is the first set of 20 sets in a series of educational toy fish sets. Each set has identical plastic case with different exciting fish. This set and the ones coming are designed to please kids and parents with quality design. There will be another 19 sets for you to collect. See American Angler Collection as well.
For an exciting gift, something that has never been available before, you cannot go wrong giving River Monster Collection. If you have any doubt, ask your youngster if he would like a toy Piranha or a toy Goonch Catfish. And then give him both, plus three more exciting fish by giving River Monster Collection. If you purchase, please consider leaving a review!
Toy Fish measure 2.5 to 3" long
Case is 7.25" x 4" x 1"
Fish are solid soft/firm plastic. Sink in water. They will not break, and can stand much abuse.
From the Manufacturer
River Monster Collection is made of the best high quality materials that are lead free and phthalate free, completely compliant with all toy regulations in the USA and EU. These toy fish figures are hand painted with paint that is also safe and compliant and will stay on the fish even with rugged play in or out of the water for many years.
UA-114739003-1