American Angler Collection Toy Fish Set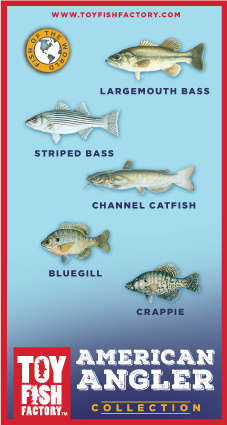 American Angler Collection Toy Fish Set
American Angler Collection
Set of five American fish in beautiful high quality collector case. This is not your standard sea animal set. These are fish that kids catch when they go fishing, in a super nice case. Fish measure 2.5 to 3" long and case is 7.25" x 4" x 1". Designed to please kids and parents with quality design. First time available starting in December 2017. Second set of 20.
Fish included: Largemouth Bass, Crappie, Bluegill, Striped Bass, Channel Catfish.
QUALITY individually hand painted figurines, detailed and realistic. Made of solid (not hollow), sturdy and bendable rubber complying with toy standards of the USA and Europe. These fish will withstand many years of kids play, in or out of the water. The case was designed specifically for small hands, you know, the hands that carry around favorite possessions. This set will be your child's favorite for a long time.
BATH AND POOL are some of the places the kids love to play with these. Made of solid rubber, they sink and make great swim toys. In the tub, get the goggles, as the kids look at them under water for extra exciting play.
GIFT FOR ANY BOY 3 to 10 years old, especially a fisherman.
Shipping in the USA will be $3.75. This will show at checkout.
The American Angler Collection is the second in a series of 20 collections. These fish are made out of bendable plastic that will endure many years of play, even in the bathtub. Kids absolutely love these fish!